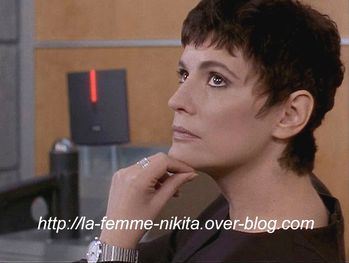 Oh no, it is not by chance that I wish to linger over Madeline's character, sublimely played by the very great and beautiful Alberta Watson, but - something that should not escape anyone - because of its many similarities with Michael's one (to whom this blog is mainly dedicated): the likeness between them is such that its absolutely deserves a whole chapter. The differences are negligible, but striking.

In case a «Mystery Award» had to be given and if we had to determine wich one of them is the most intriguing and most disconcerting, the jury would surely take upon itself a difficult task. From beginning to end, Michael and Madeline will in fact remain a real enigma, an eternal big question mark: a rule from wich they will never depart.

To study Madeline's facial expression or gaze is as fascinating as trying to solve the secret of Michael's thoughts: same closed «iron gates», same way of protecting themselves against any violation of their privacy, same manner of concealing and repressing their feelings while letting pass just a litlle touch of their deep-down agitation or pain, a fragment of response, approval or dissatisfaction. Same jet of water and fire that freezes you, confuses you or inflames you according to circumstances. Same inquisitive «steel and velvet» gaze whose only the colour of their eyes makes the difference, Madeline's dark brown one giving her more harshness.

Both are perfect in their second in command role: same devotion, same discretion, same great skill, same manner of manipulating and supervising behind the scenes. Same impassibility, same pragmatism, same rigour, same mathematical precision, same engaging... and falsely conciliatory intonation!

Same «flavour», same «savour», same «spice»... Same angelic sweetness, same diabolical intelligence, same phlegmatic appearence, same strategic patience; the same «subtle combination of opposites, contrasts and contradictions»... Same enchantering voice, same elegance, same polite attitude, same wisdom, same iced charm. Same delightful coktail to be tasted...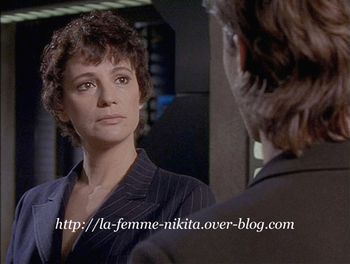 We can easily say that Michael is the male Madeline's counterpart: handsome, graceful, stylish, cerebral type, perspicacious, composed, invariable tone, nerves of steel...

Both are shrewd and outstanding operators ruling in the art of seeing the blows coming, of anticipating and parrying them with lightning speed: they are so identically shaped and so similar that they inevitably cann't do anything else than challenging and distrusting each other, than trying to outdo each other in inventiveness and know-how.

Each exchange or confrontation takes on an air of duel, of competition and silent manipulation. Their life is a perpetual contest of «crafty tactics», coldness, insensitivity... and «mechanization»... Michael's most magnetic gaze against most Madeline's enigmatic smile! Two people as attractive and disturbing who clearly cultivate a paradoxical way of being: both are «shining» and «dominating» mainly thanks to... their self-effacement and their plasticity, thanks to the immobility of the eyes, face and body! No sign of a facial movement, of an eyelids blinking which could betray the slightest emotion... Not a single word: «speech is silver, silence is golden».

Same predispositions: reserve, restraint, Olympian calm, unchangeable mood. Same «top of their class» at school... a training death school! Both are able to be obnoxious. Both enjoy flair, self-control and assurance wich will never them failed. Same manner also of evading answers or of answering without a word, of putting people ill at ease or unable to distinguish truth from falsehood, of sowing a seed of doubt in their mind... Same talent for «giving you the impression» that... of being... of having something... even though you are not supposed to know, to be or to have...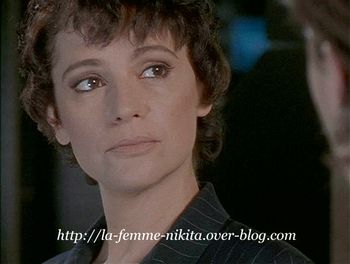 What about their differences?
Their years of experience. Time and events that formed Madeline's profile and made her invulnerable. A complete and successfully «dehumanization process». She is «the» perfect «finished product», while in return, even if he is a «top-of-the-range product», Michael is still «under construction», on the way to completion...

Between Michael and Madeline, the lady is indubitably the most fearsome character, because she reached the highest level of «impenetrability» and is now coming very close to cruelty... but never to an act of madness or to a thoughtless gesture.

As everyone in Section One, she learned the job to her cost; she could finally make a clean sweep of her memories - obviously painful -, and get used to the idea that, from then on, she will live only for her work... To such a point that she even could resist love... and also resist Operations's advances... so that she could use him just occasionally for her own pleasure. A result that has absolutely to be got with Michael and Nikita...


But while Madeline finally resigned herself to her fate and swore loyalty to Operations, to whom she reported everything, Michael, although being docile and disciplined, on the other hand will always remain profoundly ungovernable. His strength? Go it alone and stay secretive, for better or for worse.


If Michael and Madeline have opted for a similar attitude, in return, they differently base their own power. While Michael is charming you thanks to his strength and his brightness, to the beauty and the intrinsic life of his look, to the strange blend of placidness and gravity of his expression, to his pacifying or sometimes sharp way of «whispering» instead of speaking in a loud voice, Madeline, for her part, in addition to the dangerousness of her black glance, is disconcerting you thanks to her delicate mellow tones and to the perfidy of her engaging smile: a cleverly mixture of affability and Machiavellianism, of serenity and harshness, of threats and support..., everything constantly fluctuating between understanding and implacability, between tact and sly aggression. Now sprinkle «the whole package» with a veil of melancholy, irony and bitterness... and you will get our Madeline!


A gorgeous Madeline/Alberta Watson, because as imperturbable and hard to be decrypted asMichael. Their complexity makes their analysis inescapable. And both their presence into Section One is indispensable.


But also...

An extremely proud and haughty Madeline whose style and refined beauty has no other equal than the Michael's sensuality and catlike beauty!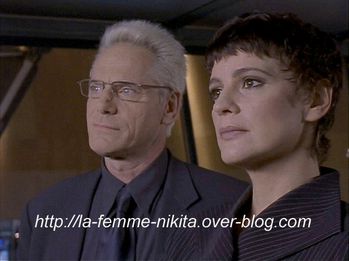 "The style management is on the way to professionnalization and nothing was left to chance, starting with one's face, hairstyle and make-up" (quote)

Although being in sharp contrast with the stunning, blonde, wild and always colorful Nikita, the dark and foggy Madeline is equally amazing and very attractive. Despite of her austere role and her sartorial simplicity, it's impossible to deny the evidence: her feminity passes through the screen! So much that we would like to smell a scent of her perfume, of the flowers she surrounds herself with..., if only we could. Her great artless female presence, without any jewels, accessories or plunging neckline, makes her stand out, naturally, like a vanilla fragrance... Madeline is the perfect portrayal of beauty in the simplicity.

Woman of influence, high society woman and woman through and through, Madeline distinguishes herself as well by her intellectual refinement as by her class, her deportment and her propriety. No strong language, never raise her voice, no inappropriate gesture. An exterior appearance in perfect harmony with her inner balance.

Loved or hated, Madeline is a character who, nonetheless, remains an outstanding example of good taste, dignity and courage. A queen of the night who, as long as she lives and breathes, will respect the rules she established and dictated to others. To her dying day, she did her job and did it well.

Bye bye Madeline, we really enjoyed!


© Michèle Brunel (Cet article est protégé par
)

This translation, done all by myself, is a personal tribute to my second favourite character in the La Femme Nikita show and to the kindest actress I could virtually meet in my life.
You can follow Alberta Watson on Twitter: @Alberta_Watson

or/and on her fan's site & messageboard Alberta Watson Fans